Change the 10 year, deeply entrenched negative perceptions of the show, by more women than men, with a friendly, relaxed, fun vibe

Significantly increase coverage, especially national and broadcast (the show had never had any before), in an entertaining and non-sleazy way, raising awareness of the date, to encourage a new, younger audience to attend

To raise interest and increase ticket sales prior to the show by using social networking sites and through an event – created by us – to raise awareness the week before the event

Manage Dita Von Teese, including all her press before, during and after the event. Dita would not do any interviews with tabloids (normally core press) and at the show, photographers were not permitted to take pictures of her (a huge challenge as the show was in Olympia's main hall in front of 10,000 people)

The press office had been shambolic. The priority was to ensure that 600-odd media were looked after and managed, to maximise positive coverage.
The Solution
We targeted mainstream women's consumer press, using Dita and the female-friendly exhibitors to raise awareness of how many women attend the show and all the fantastic things to do, see and buy

We created a VIP area to attract celebs not normally associated with the show and to highlight that it is a cool place to go and not the home of sleazy old men, including sourcing appropriate partner to create area and staff it

Through Facebook, we organised a 'flash snog' at the newly opened kissing statue at St Pancras Station - aimed at raising awareness on social networking site and showing the brand's fun and romantic side

For Dita, we leverage a wide variety of women's press, mindful that Dita was unavailable for TV prior or after the show, when targeting broadcast coverage

Management of press before, during and after show, including VIP interviews, release of news and pictures, and massive amounts of pre-show sell in. The hardest part was managing the press during the event, with more than 200 photographers and 500 journalists. We succeeded via a combination of good humour, bribery and menace.
The Results
More than 150 pieces of coverage (previous year 35) over five months, including all nationals and tabloids, as well as broadcast

Lost Vagueness VIP Area – sourced the Glastonbury pranksters to create and staff the area - celebs in attendance included Gok Wan, Jodie Harsh, Andrea Catherwood and Al Murray. Coverage achieved in all key press over weekend of show including a story based on the VIP Goody Bag in the News of The World

Flash Snog – the event attracted over 50 couples to the event, and achieved broadcast coverage on both Sky and five news, as well as the londonpaper, all of which namechecked the show. Achieved more than 30 pieces of coverage

Dita – more than 30 pieces of coverage, from The Times to Love It to Cosmo to New Woman, with no tabloid interviews whatsoever. To hit these titles we used ex porn star Savannah Sampson, who had just launched her own range of wine, using 'porn to plonk' angle. To get around the fact that Dita was unavailable to do any TV, but unwilling to do any of the smaller stations, we secured an interview with Dita and Pete Mitchell on Radio 2 – the first mention ever of Erotica on the BBC.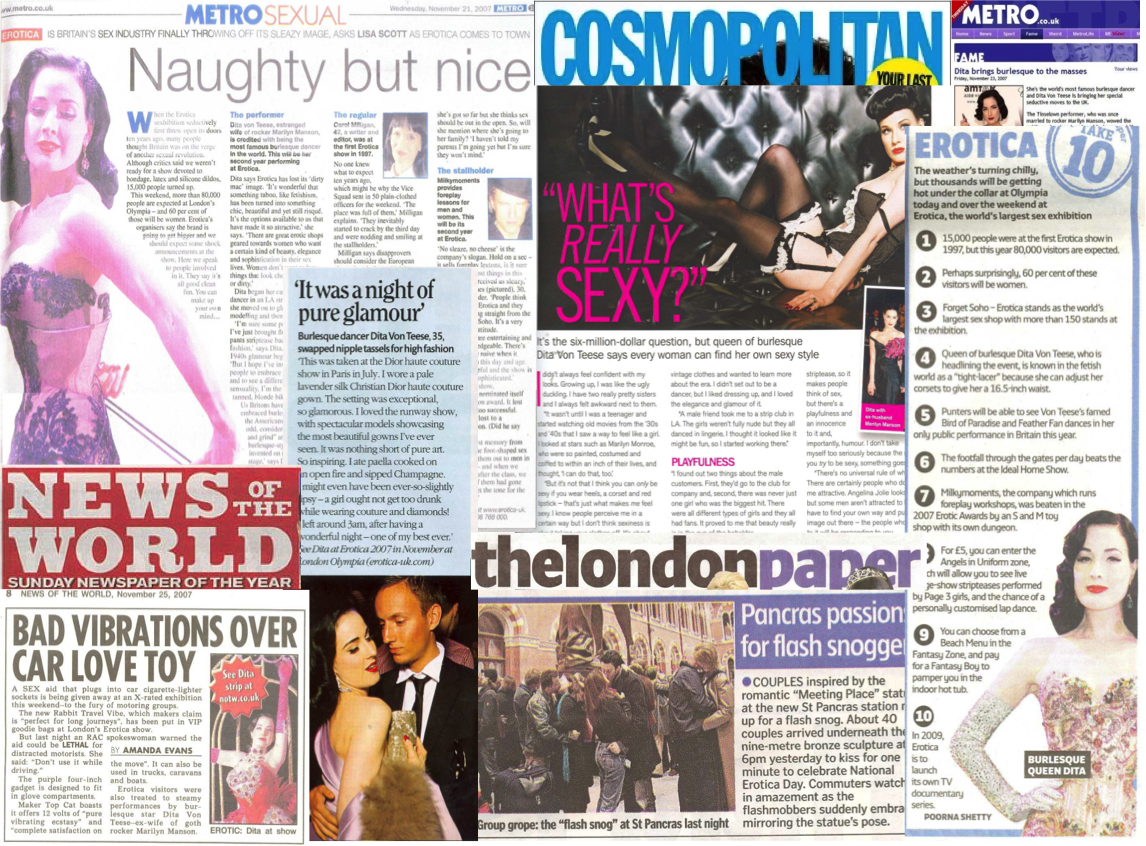 "They were great at leveraging unusual and useful opportunities, and handled every aspect of Dita's PR at Erotica fantastically. Special mention goes to Sam, who was professional throughout, and dealt with the (many) crisis quickly and well." Melissa Dishell, agent to Dita Von Teese
"Sam hit the ground running with Erotica – upsold to the client, handled the incumbent account team very well and showed natural ability for refreshing the way we approached the PR. As a result the coverage (both amount and variety) has massively increased. She was the brains behind flash snog, which achieved Erotica's first broadcast coverage, and she created and oversaw the exhibition's first VIP area. During the show she handled every crisis well and I always felt the account was in safe hands. Possibly most importantly, she gained the client's trust to the extent that he let her run with her ideas (flash snog, Lost Vagueness VIP room) even though he didn't think she was right, and was more than happy to admit he was wrong each time!" Carol Webster, Erotica AD @ Limelight